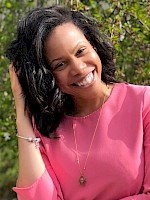 Leeja Carter, PhD, believes sport and exercise are not only personally enhancing, but can transform families and communities. A feminist sport psychology practitioner and women's health advocate, her work addresses historical and contemporary representations of Black women's 'strength,' culturally sensitive health and sport psychology approaches for people of color, and gendered racism in sport. Dr. Carter received a Bachelor's and Master's degree in Psychology from Fairleigh Dickinson University, a Post-Master's Certification in Exercise Science from California University of Pennsylvania, and a Ph.D. in Kinesiology with a concentration in the Psychology of Human Movement from Temple University.

In 2015 Dr. Carter created the PEAK Program at Long Island University - Brooklyn (LIU): an all-in-one program that combines research, applied sport psychology practice, and student training for the LIU and Brooklyn communities. In 2018 she was awarded the Fulbright Specialist Scholar award to serve as a Visiting Scholar at London South Bank University (LSBU) in their Sport and Exercise Science Research Center (SESRC) on the project titled, "Interdisciplinary Methods to Addressing Health Behaviors Among Women and Girls in London."

Recently she began an online video series, serving as producer, titled, "Beyond Me Too - Sport (BMTSport)" which shares stories of resistance, strategies, advice, and hopes for making sports a safe, inclusive, and equitable space for all. Finally, she is a working group member on the "Pathways of Young Migrants in the Education System of Lower Austria and NYC: Development of New Approaches and Exchange of Practical Pedagogical Models." This international project explores what happens with a young migrant (child, young person) when he/she enters a school environment, a non-formal youth group, and community in Lower Austria, Austria. Dr. Carter is a former AASP Diversity Committee Chair, member of the Foundation and Finance Committees, and Coordinator of the Women in Sport Special Interest Group.