Sheryl Swoopes Achieves Greatness Through Sport Psychology
Published
Regarded as one of the best female basketball players of all time, Sheryl Swoopes accepted the Performance Excellence Award at the Association for Applied Sport Psychology's (AASP) annual conference in Las Vegas in October 2014.
Swoopes' journey to greatness took off when she became the first player to sign with the Women's National Basketball Association (WNBA) in 1996. Since then, she excelled at her sport, earning four WNBA championships, three Most Valuable Player awards and three Olympic Gold Medals.
Swoopes' enormously successful basketball career solidified her selection as the AASP Performance Excellence Award recipient. The Performance Excellence Award aims to reward individuals who embody exemplary psychological principles associated with performance excellence. These principles may be demonstrated through the recipient's consistent achievement, merit or leadership over the course of their career.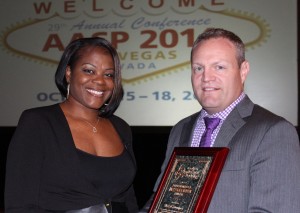 "When I got the news about the award I reflected on my life," said Swoopes. "I looked at how far I've come and where I am headed—the good and bad. All of my life experiences happened for a reason, but they've shaped me for who I am today. Determination, focus, facing challenges with perseverance and hard work and sacrifice are the four reasons critical to driving performance excellence in my life," explained Swoopes.
Becoming Mentally Ready
Part of Swoopes' athletic success can be credited to a deep preparedness that comes not only from physical, but psychological training. After she failed to qualify for the USA Olympic Trials and World Championships, Swoopes asked the judging committee what it would take to make the team. Swoopes soon learned she was physically prepared to compete at the next level, but not mentally prepared.
"I needed to seek help because I had a lot of issues in my life that were overwhelming. When I finally decided to open up to my clinical sport psychologist, I learned to deal with all the distractions in my life on and off court," said Swoopes.
Becoming the head women's basketball coach at Loyola University Chicago in 2013, Swoopes recognizes the importance of mental strengthening in student-athletes.
"It is important for my players to have someone besides their coach to talk to," Swoopes said. "I believe sport psychologists should be mandatory in all universities."
As of 2013, between 38 to 61 percent of NCAA Division I institutions and between 10 to 23 percent of both Division II and Division III reported having access to sport psychological services.
Are you an athlete or coach? Find educational resources and articles in the AASP Resource Center.