AASP Newsletter
35th Annual Conference Recap
Lindsey Blom
Lindsey Blom, EdD, CMPC, AASP President-Elect, Ball State University
This past May, AASP's Executive Board and Conference Planning Committee (CPC) decided to keep the health and safety of conference attendees a priority and move the 35th Annual AASP Conference to a virtual format. The CPC, the Continuing Education Committee (CEC) and AASP staff immediately went to work to research virtual conference platforms and best practices, renegotiate contracts, notify presenters, consider attendee time zones, and reformat keynote presentations. This was going to be a risk, a challenge, and an adventure. Fast forward four months and looking back on an exceptional first virtual AASP conference, the CPC deserves overwhelming applause!
AASP 2020 had a record number of over 1,700 attendees from over 40 countries. Early, mid, and late-career professionals and students from all over the world spent four days sharing, learning, and connecting around applied sport and performance psychology. While the energy was different than the typical hum and laughter at the opening reception, it was present, engaging, and fulfilling. The CPC selected keynotes who represented a variety of performance sectors, asking them to address their experiences of physical performance, mental performance and mental health, as well as effects of social injustice and the pandemic. Additionally, AASP 2020 included live sessions that covered topics across the continuum of sport participation, the research and application, the gamut of one's career, and our conference mainstays. I know it was not an easy task to select only three to four hours a day of live material for an intellectually packed conference. Thank you to all of you who spent hours planning this conference. We, as attendees, get to enjoy your hard work and preparation and certainly appreciate it.
AASP's 35th Annual Conference was also memorable for the Association as we welcomed Dr. Kensa Gunter as the first Black woman to serve as president. Dr. Gunter kicked off the conference with a virtual meet and greet, so we could get to know her love for the Marvel Universe, an overview of her presidential plans, and her friendly personality, passion for the field, and intellect. Then we heard from keynote speaker, General Robert Brown on "Thriving in Ambiguity and Chaos," where he talked about "people are still the advantage," trust, building great teams around us, having a clear vision, and demonstrating care. His engaging talk demonstrated the hearty and crucial collaboration between consultants and military officers at different ranks throughout the US. Dr. Anjali Forber-Pratt, Paralympian wheelchair racer and Assistant Professor at Vanderbilt University, continued Day 1 speaking about disability sport and pushing for understanding, support, and inclusion. She encouraged us to increase access to sport and not make disability an afterthought. For our last live presentation on the first day, we heard from several professionals on the USOPC sport psychology and mental health team who discussed the action the USOPC is taking on mental health support for athletes and the effects of pandemic on the delay of the Olympics and the life of Olympians.
Day 2 started with a very authentic and transparent conversation between Brandon Marshall, NFL All-Pro & Current Co-Host of Inside the NFL, and Dr. Gunter. Brandon shared his turbulent story of fame, sport success, mental illness, and finding his purpose in life. He encouraged us to view athletes as people and to help continue working to decrease the stigma around mental health within athletics. The next session was the 2nd Annual Burt Giges workshop on "When and How to Refer a Client" that included real-time case studies and reflections from Dr. Giges, himself, along with consultants. The live programming concluded with an international symposium where professionals highlighted research on various transitions athletes experience across their career, including transitioning to college from an underserved community, transitioning to the Olympic and Paralympic Training Center, and transitioning from athlete to coach. With this year causing many athletes and professionals to rethink their careers, reminders about the transition literature was extremely helpful.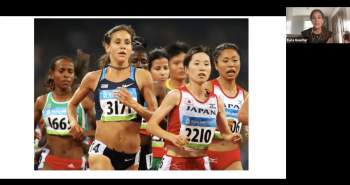 We started Day 3 with a keynote presentation from Kara Goucher, Olympic Marathoner, World Championship medalist, and mom who was the 2020 recipient of AASP's Performance Excellence Award. She shared her struggle with performance anxiety and its effect on her career, recognizing the importance of mental skills training, considering one's identities, and the power of strong mantras for when the world is sending out messages different than our truth. Then we participated in an ethics workshop on "Maintaining Integrity and Professionalism while Working with Youth Sport." The presenters reminded us about the needed stakeholder collaboration in working with this minor population as well as considering the developmental stage of the client. Dr. Jack Lesyk then delivered the Coleman Griffith Lecture, sharing his career path with a view of the past and some glimpses into the future. He highlighted the creative and resilient nature of athletes and sport psychology professionals, as well as the need to evaluate the overemphasis on performance and outcome and the impact of social media on our clients. The day ended with Dr. Gunter's presidential address, where she invited us to look at our AASP history and past to see where we limited space, voice, and perspective. Using this reflection, she named the opportunity in the moment to define and own our identity as an organization, where we can heal and come together while embracing our growth and change. Then she finished with a call to action, asking us to unite as one and identify our individual roles in this process. She asked us to consider our imprint- is it moving us forward, holding us back, or keeping us standing still?
Day 4 kicked off with an outstanding group of professionals across sectors continuing conversations about athlete transitions because of the pandemic and the importance of sport psychology professionals during times of unrest, ambiguity, and chaos. AASP Past President Dr. Traci Statler then led a panel conversation about mentorship and gatekeeping with the profession, emphasizing mentor training and monitoring the growth and development of mentees. We finished the day with a highly informative workshop facilitated by Dr. Ashwin Patel about "Getting the Job." Panelists discussed resumes, key growth experiences, interviews, and other considerations. While this was designed for students, it offered advice for early and mid-career professionals as well as professionals training and hiring. While the Business Meeting was not part of the live sessions, I do want to make sure to recap Dr. Natalie Durand-Bush's highlights from 2019-2020. Over this past year, AASP responded to members' needs and challenging times by offering an increased number of webinars, hosting town halls and coffee chats, and releasing a strong statement on Recent Racialized Events with accompanying resources. Other accomplishments included the work from the new Advocacy Committee and the Diversity and Inclusion Task Force, hosting the first Midcareer Institute for Women in Sport, the CMPC® program being accredited by the National Commission of Certifying Agencies, and working with a professional branding company to define a unifying brand and core identity for AASP.
Wow! What a week! In addition to these incredible live sessions, there were numerous informative and creative posters and on-demand sessions across a range of topics and target audiences. Across these presentations, we heard a consistent message about the importance of helping athletes, students, and professionals see people like them in roles for which they aspire. We also were reminded of the importance of understanding people for who they are as humans with their unique identities as well as the intersection of these identities, and getting mental skills and mental health support to athletes and performers at all competitive levels. In concluding the conference recap, I hope you walk away feeling energized and excited about your work in the field. Thank you to the members and attendees who supported the conference programming and all who dedicated incredible time to host an outstanding program.
While we don't know the final plans for the 2021 conference, we hope the stars align and we can all gather in-person in Las Vegas next October!
-Lindsey