Resources for Parents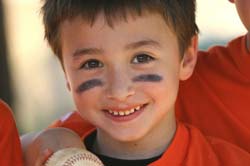 Being the parent of a child involved in sport participation can be exciting, challenging, and rewarding. Sometimes it can be frustrating and disappointing. How parents react during youth sport events can make a big difference in how their children feel about sport.
In the news, there have been far too many examples of out-of-control parents at youth sport events. Imagine how a young girl might feel as her Dad argues with the referee. What about when Mom voices her disappointment when her son strikes out in Little League? While parents may mean well, it is important to remember that youth sport is a time when children learn sport skills and develop the composure needed at more competitive sport levels of sport.
As a parent, you want your child to develop confidence, have fun, learn new skills, develop friendships, cope with disappointment, and learn cooperation through sport. You can help your child to have enjoyable and satisfying sport experiences. This website will provide information about sport psychology that can help you reach this goal.
Through consultation with a Certified Mental Performance Consultant® (CMPC) your child can learn skills that may help improve performance. It also can offer you strategies to help maximize your child's enjoyment and motivation. Not only will these skills and concepts assist in sport, they can be used in many life situations, beyond sport.
Articles
Links