Webinar
Virtual Conference: Utilizing Assessment In Applied Sport Psychology
Webinar Archive
If you already purchased this webinar, you can access the archive.
Otherwise, you can register for access to the archive.
Keep your confirmation email(s) as CEU documentation for AASP webinars and virtual conferences.
Description
3 hour session
Overview
Assessment is an ongoing process that is critical to helping mental performance consultants understand and intervene effectively with their clients (Taylor, 2017). Consultants may consider utilizing an array of methods to gain a more complete picture of what is occurring within their clients at an individual, organizational, and/or systemic level. Assessment, used broadly in this context to mean the process of gathering information to inform service delivery, can include multiple types of information including interviews, observational data (Watson II & Shannon, 2010), questionnaires (Tenenbaum, Eklund, & Kamata, 2011), and others. As data is gathered, consultants then need to effectively synthesize and triangulate these sources of information to create a more complete picture from which they can intervene. Thus, the purpose of this Virtual Conference is to discuss strategies for incorporating assessment within a mental performance consultant's practice. Types of consultation covered will include individual consultation, team consultation, talent identification, and evaluating consultant effectiveness. Within each area, presenters will cover topics including types of assessments that can be utilized, effective implementation of assessment methods, best practices in triangulating this information, ethical considerations, and diversity considerations. Attendees will leave this conference with an understanding of a variety of assessment methods in addition to ways in which these can be incorporated into their mental performance consulting practice.
Presentations & Speakers
Behind the Scenes, Identifying the Next Generational Talent
Aimee Kimball, PhD, KPEX Consulting
There is no one personality. There is no one key skill. There isn't a crucial identifier of those who make it at higher levels and those who don't. In my 15+ years of working in pro sports and assisting NHL, NBA, and NFL teams in assessing the personality of potential draft picks, what I've learned is that what makes a player a "sure thing" is a combination of a lot of factors, including skill, character, mentality, and luck. In this session we will discuss how professional sports teams go about identifying talent and how they utilize a variety of sources of information in their decision-making pertaining to the draft. In particular, we will discuss the personality and character traits many teams look for as they seek to identify future team members.
Assessment in Individual Consultation
Brandon Orr, PhD, United States Army Special Operations Command
Dr. Orr will focus on the gaps within assessment in performance domains he has identified and worked to address, both in sport and Special Warfare. As performance in any domain is governed by rules of contextualization wherein the context of the performance environment, performance type, performance task, and most importantly, the performers themselves, must be considered within assessment and performance enhancement efforts. Central to assessment for performance enhancement is the assurance that both the assessment methodology and the assessment application operate within the contextual demands of the performance environment, performance demands, and human factors relative to the performance population. It is this central constitution of assessment that must inform and govern any case conceptualization influenced by the assessment for performance needs. In this presentation, Dr. Orr, in large regard out of his experience within Special Operations populations, makes the argument that traditional assessment and selection of personnel has been errantly dependent (and inherently biased) by its reliance on standardized (and biased) intelligence quotient tests. This presentation will cover the exhaustive lengths Dr. Orr has taken to deviate from standardized intelligence-driven assessment and selection measures, to evolve to a more multicultural-sensitive performance intelligence quotient for assessment and selection and performance enhancement case conceptualization.
3 Questions to Guide Team Assessments
Lindsey Hamilton, MS, CMPC, IMG Academy
In any assessment process, there are a number of considerations that guide effective collection of information to inform mental performance planning and execution. Team assessment adds an additional layer of coordination among teammates, coaches, and others that place added constraints on how assessment can be conducted and leveraged. This session will consider three primary questions practitioners can ask themselves to guide which assessments to use with teams, how to prioritize the information they gather, and what to consider with diverse audiences.
Assessing Consultant Effectiveness
Lee-Ann Sharp, PhD, Ulster University
"If applied sport psychology is to develop further, greater attention must be given to program evaluation and professional accountability" (Gould et al., p. 112). Engagement in both formal evaluation and informal evaluation of applied practice allows MPCs to not only document their work but also facilitate their improvement to ensure they are accountable to their clients, themselves, and their profession (Anderson et al., 2002). Yet evaluation of the individual sport psychology consultant (SPC) has been neglected in favour of the assessment and evaluation of the methods employed by these individuals. Today's presentation will discuss the place of conducting both formal and informal evaluation of applied practice, while also discussing how best to overcome assessment-related problems encountered in real-world applied settings (Sharp, 2009).
Learning Objectives
Identify types of assessment measures that can be used within applied sport psychology practice
Increase skill in triangulating information from multiple assessment types
Learn how assessment techniques may be applied across various consultation contexts
Evaluate ethical and diversity-related considerations that may impact the assessment process
Continuing Education Credit
This program has been approved for 3.0 hours of CE to partially meet the continuing education re-certification requirement for Certified Mental Performance Consultants® (CMPC).
Program Format
You can attend an AASP webinar from your home or office. All you need is an internet connection. You can see the presentation slides on your computer or mobile device, and listen to the audio through your device, or call in with a phone. Registrants will be provided with login information the day prior to the session. The webinar will also be archived for those who wish to watch it at a later date.
About the Speakers
Dr. Aimee C. Kimball has a PhD specializing in Sport Psychology and has been a Mental Training Consultant for almost 20 years. Dr. Kimball works with professional, collegiate, and high school athletes in a variety of sports. She is starting her 17th season working in the NHL and is currently the Washington Capitals' Senior Director of Team and Organizational Development. In this role she helps the players develop a successful mentality, the teams develop a championship culture, and she works closely with the coaches as well as the development and scouting staffs. Previously she spent 5 seasons as the Director of Player and Team Development for the New Jersey Devils and was the Pittsburgh Penguins' Mental Training Consultant for a decade and was part of both the 2009 and 2016 Stanley Cup championships. She has served as the mental training consultant for several college and high school teams and has previously assisted the Pittsburgh Steelers and Philadelphia 76ers in analyzing potential draft picks. She also joined the USA Women's National Hockey Team as their Mental Performance Coach for the 2022 Olympics in Beijing. Before founding KPEX Consulting, Aimee spent 9 years as the Director of Mental Training at UPMC Center for Sports Medicine. She received a PhD from the University of Tennessee where she specialized in sport psychology, a Masters in Sports Behavior and Performance from Miami University (Ohio) and an undergraduate psychology degree from the Pennsylvania State University. Dr. Kimball has been a resource for numerous media outlets including: The Athletic, Men's Health Magazine, Runner's World, various local and national newspapers, ESPN, NPR, and news broadcasts across the country.
Lindsey Hamilton, MS, is the Head of Mental Conditioning at IMG Academy in Bradenton, FL where she leads and develops a team of 12 mental conditioning coaches that oversees the mental skills development of over 1,200 middle school and high school aged student-athletes across eight sports. She also leads the IMG Institute through developing and delivering high performance mindset training to executive level business professionals and corporate teams interested in optimizing leadership and enhancing organizational excellence.
In her work with athletes and performers, Lindsey is responsible for the assessment, design, implementation, and evaluation of mental programming and effectiveness for multiple teams and groups on a weekly basis. Through in-person and virtual psychoeducational workshops, on-field skill training, perceptual-cognitive training, as well as support on the field or court, her focus is on applying mental skills and cultural standards in representative environments to help people and teams achieve their goals, both on the field and off.
Lindsey holds two bachelor's degrees from Chapman University in psychology and sociology, a master's degree from the University of Utah in Exercise and Sport Science with an emphasis in psychosocial aspects of sport, and is currently pursuing her doctorate in kinesiology at UNC Greensboro. She is also a Certified Mental Performance Consultant (CMPC) through the Association for Applied Sport Psychology. Lindsey relentlessly encourages those around her to pursue the best version of themselves and have a fun time doing it.
Dr. Brandon Orr is the Director of Performance Psychology and Cognitive Enhancement for United States Special Operations Command, 7th Special Forces Group (Airborne). By trade and training, a sport and performance psychology practitioner with 20 years of experience as a coach, practitioner, educator and researcher, Dr. Orr redirected his efforts into the Tactical Domain in 2016. Focusing on increasing lethality and readiness within Special Warfare personnel, Dr. Orr has worked in Special Warfare to bring a more robust framework for performance enhancement, assessment and selection, and resilience by bringing objective measures of effectiveness within subjective domains of performance. In his current capacity, Dr. Orr is responsible for increasing lethality, readiness, and resilience within Special Operations personnel across efforts encompassing performance enhancement, assessment and selection, readiness, and cognitive performance.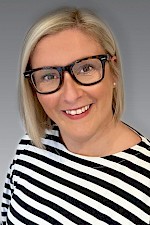 Dr. Lee-Ann Sharp is a lecturer in sport and exercise psychology in the School of Sport at Ulster University, Northern Ireland, and a member of the Sports and Exercise Sciences Research Institute (SESRI). Since completing her PhD examining the sport psychology consultant - athlete relationship at the University of Otago, New Zealand, and her Post-Doctoral work at the University of Birmingham, U.K. Lee-Ann has continued to research within the broad area of social-psychological aspects of sport participation. In collaboration with national and international colleagues, Lee-Ann has explored sport psychology consultant effectiveness, the consulting relationship in sport psychology, applied sport psychology practice with athletes and coaches, youth athletes' development and support, and the psychology of sports coaching. Lee-Ann is a Chartered Psychologist with the British Psychological Society, and a British Association of Sport and Exercise Sciences accredited Sport Scientist. With over 15 years applied sport psychology consulting experience in a variety of high-performance sports, Lee-Ann currently supports elite athletes within the Sports Ireland and Sport Northern Ireland Institutes, alongside her role as lead psychologist with Golf Ireland.
Registration
Students – $49.00
Members – $75.00
Non-members – $99.00
Register to access the archive
---