Aidan Kraus, Student Representative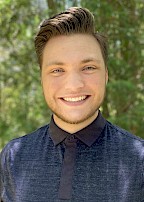 Aidan is pursuing a Ph.D. in Counseling Psychology with a Specialization in Sport & Performance Psychology at Boston University (BU) Wheellock College of Education & Human Development. Aidan is particularly interested in how the mental health of student-athletes influences and is influenced by collegiate athletics, which stemmed from their research on athlete mental health and diversity and inclusion. As a former collegiate student-athlete and proud member of the LGBTQIA+ community, they strive to create more welcoming and affirming spaces for high school and collegiate student-athletes who identify as transgender and/or gender-nonconforming. They plan to dedicate their career and research to advocating for more inclusive practices and policies for those often underrepresented within sport and athletic competition.
Before pursuing a doctorate, Aidan earned a Master's in Mental Health Counseling with a Specialization in Sport & Performance Psychology at BU Wheelock College and completed a B.A. in American Studies with a Specialization in the Psychology of Sport at Smith College, MA. Aidan has served as a Student Delegate through the Association for Applied Sport Psychology (AASP) since 2018 and is currently a Co-Chair of the Social Justice Initiative. Further, in 2019, they were elected as a Co-Chair of the Pride (LGBTQ+) Special Interest Group through the organization. Additionally, they serve the American Psychological Association as a Student Representative of the Division 17 Section for LGBT Issues and are an elected member of the American Psychological Association of Graduate Students' Committee on Sexual Orientation and Gender Diversity (CSOGD).