Student Delegates
The AASP Student Delegate position is a 1-year commitment. Student Delegates must be current AASP members. Delegates are responsible for participating in their assigned Student Initiative(s), providing support at student programming during the Annual Conference, and other duties as assigned by the current Executive Board Student Representatives.
To apply for a Student Delegate position, submit the following to studentrep@appliedsportpsych.org:
Application form - The Student Delegate application deadline has been extended to May 1, 2022.

A resume or CV that highlights educational experience, leadership experiences, and previous or current AASP involvement.

A 500-word statement of intent describing your interest in becoming a student delegate, previous AASP service experience, and proposed involvement in an established student initiative or initiatives for the coming year.
---
Executive Board Student Representatives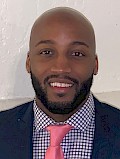 Kerry Guest, MS, CMPC
Indiana University
studentrep@appliedsportpsych.org
coachkguest@gmail.com
Kerry Guest is a Certified Mental Performance Consultant® (CMPC) and third-year PhD Student in Indiana University's (IU) Counseling Psychology program with a minor in Sport & Performance Psychology. A proud native of St. Louis, Missouri, Kerry has worked as an educator, clinical mental health professional, and mental skills consultant since 2014. Currently, he is a Diversity Fellow for the Office of Diversity & Inclusion within the University Graduate School at IU. Prior to arriving at IU, Kerry was a Mental Conditioning Coach at IMG Academy. Kerry received his masters degree in Exercise and Sport Psychology from Southern Illinois University Edwardsville and bachelor's in psychology at Illinois State University as a student-athlete. Kerry is presently serving his second year as Student Representative for the Association of Applied Sport Psychology Executive Board. As a former collegiate athlete, Kerry remains passionate about the psychoeducation of transferable executive function developed through sport participation as a social justice change agent. His research interests include the intersectionality of racial and athletic identity, sport transition for Black and Brown student-athletes, and culturally responsive mentorship models for early-career professionals. Additionally, he is interested in mental skill applications in the occupational setting. Outside of navigating his studies, Kerry is an avid fitness enthusiast who desperately enjoys warm weather and big crowds.
---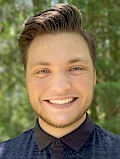 Aidan Kraus, EdM
(they/them/theirs)
Boston University
studentrep@appliedsportpsych.org
ekkraus@bu.edu
Aidan Kraus (they/them/theirs) is a first-year PhD student at Boston University Wheelock College of Education & Human Development, earning a degree in Counseling Psychology with a Specialization in Sport & Performance Psychology. Before pursuing a doctorate, Aidan earned a Master of Education in Mental Health Counseling with a specialization in Sport & Performance Psychology at BU Wheelock College and completed a BA in American Studies with a specialization in the Psychology of Sport at Smith College, MA. Aidan is particularly interested in how the mental health of student-athletes influences and is influenced by collegiate athletics, which stems from their research on athlete mental health and diversity and inclusion. As a former collegiate student-athlete and proud member of the LGBTQIA+ community, they strive to create more welcoming and affirming spaces for high school and collegiate student-athletes who identify as transgender and/or gender-nonconforming. They plan to dedicate their career and research to advocating for more inclusive practices and policies for those often underrepresented within sport and athletic competition.
In addition to being a Student Representative for the Association of Applied Sport Psychology (AASP), Aidan was a Student Delegate for three years and is currently a Co-Chair of the Pride (LGBTQ+) Special Interest Group through the association. Additionally, they serve the American Psychological Association (APA) as a Student Representative of the Division 17 Section for LGBT Issues and are an elected member of the American Psychological Association of Graduate Students' (APAGS) Committee on Sexual Orientation and Gender Diversity (CSOGD). Aidan is also a member of the Equity, Diversity, and Inclusion Committee through BU Wheelock College and spends their time working with high school and collegiate student-athletes as a mental performance consultant within the Boston area. In their free time, Aidan enjoys playing guitar, exercising, cheering on local sports teams, and spending time with important people in their life.
---
Student Delegates
Ellea Bachmeier
University of Wisconsin-Green Bay
bachee26@uwgb.edu
Ellea Bachmeier is a second-year graduate student at the University of Wisconsin-Green Bay pursuing a Master's in Sport, Exercise and Performance Psychology. She completed her Bachelor's in Psychology and Bachelor's in Kinesiology at the University of North Dakota. Ellea has a variety of sport experience as an athlete, coach, and sport performance intern. Her research interests include gender differences in sport, specifically gender dominant sports, confidence building in youth athletes, and reducing fear of injury. Ellea hopes to expand her knowledge into mental health in the near future, with a focus on athlete mental health and well-being.

---
Kira Borum
(she/her/hers)
University of North Carolina - Greensboro
knborum@uncg.edu
Kira is a first-year master's student at UNC - Greensboro in Kinesiology (Applied Sport Psychology track) and Graduate Certificate in Women, Gender, and Sexuality Studies. She completed her Bachelor's in Psychology at Central Michigan University. Cultivated from her experience as a youth athlete and her service year as an AmeriCorps VISTA, Kira is passionate about youth development in sport, the impact of race, ethnicity, & stereotypes in sport, women in sport, DEI in sport, and mental health resources in youth communities. After graduation, Kira plans to obtain her CMPC certification and pursue a Ph.D. in Counseling Psychology.
---
Anthony Magdeleno, MS
University of Wisconsin - Milwaukee
Magdale4@uwm.edu
Anthony is a second year PhD student in the College of Health Sciences and the Laboratory for Sport Psychology & Performance Excellence at the University of Wisconsin-Milwaukee. Prior to his doctoral studies, Anthony completed a MS in Kinesiology with a specialization in applied sport and performance psychology at California State University, Fullerton. His research interests include the health and performance of sport psychology professionals, the psychological aspects of rest and recovery, and applied sport and performance psychology.

---
Jasmine Morigney, MS
(she/her/hers)
Eastern Michigan University
jmorigne@emich.edu
Jasmine Morigney is a third-year Ph.D. candidate in Clinical Psychology at Eastern Michigan University. Prior to graduate school, Jasmine received a Bachelor of Arts in Biopsychology, Cognition, and Neuroscience from the University of Michigan. Jasmine is interested in the unique experiences of collegiate student-athletes as it pertains to mental health outcomes and resiliency. Recently, she has taken an interest in the impacts of sports-related concussion on academic and adaptive functioning. Jasmine also serves as Chair of the Michigan Psychological Association Graduate Student Committee. She aims to have a career as a Clinical Sport Psychologist in collegiate athletics who specializes in concussion protocols.
---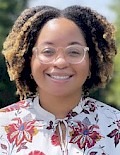 Yancy Nesbitt
Spalding University
ynesbitt@spalding.edu
Yancy Nesbitt is a second-year PsyD student at Spalding University's School of Professional Psychology, earning a degree in Clinical Psychology. Prior to pursuing her doctorate degree, Yancy earned a master's degree in Psychological Sciences at the University of Maryland, and obtained her Bachelor of Arts degree in Psychology at Spelman College. Yancy is particularly interested in racial trauma in athletes in addition to the impact of mindfulness practices in athlete mental health, performance and injury recovery. Her ultimate goal is to become a Clinical Sport Psychologist and contribute to the advancements of psychological research and dissemination of mental health treatment and performance in collegiate and professional athletes. In the School of Professional Psychology, Yancy serves as a Student Representative and a Graduate Assistant for the Department of Physical Therapy.
---
Rachel Shinnick
(she/her/hers)
Boston University
rachelshinnick@gmail.com
Rachel is a second-year Master of Education student at Boston University studying Counseling and Sport Psychology. She values the collaborative nature of working with athletes to build long-lasting mental skills rooted in a growth mindset approach to performance. Rachel intends to pursue a career in counseling the mental health concerns of athletes in addition to building mental skills to aid performance enhancement. She has spent the past two years working as a mental performance consultant for teams in the Boston area and across the country. Prior to BU, Rachel completed her Bachelor's in Psychology at Wofford College, where she also played for the Division I Women's Soccer team. Rachel currently serves on the AASP Science to Practice Committee and also as Co-Chair of the Science and Practice Initiative. Rachel plans to pursue a Ph.D. in Counseling Psychology with a Sport and Exercise Concentration. Her research interests focus on working with injured athletes, mental health implications of trauma, understanding youth experience of identity-based harassment and resilience-based protective factors.
---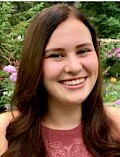 Olivia Wyatt, MA, CMPC
(she/her/hers)
Boston University
orwyatt@bu.edu
Olivia is a Counseling Psychology Ph.D. student at Boston University specializing in Sport & Performance Psychology. Prior to BU, Olivia completed her Master's in Sport & Performance Psychology at the University of Denver and her Bachelor's in Psychology and Economics at Tufts University. She values working within communities and has experience with Big Sister Boston and the Get Ready program. Olivia is passionate about helping coaches better understand their own mental health and mental skills to support themselves and their athletes/performers in their pursuit of performance excellence. Her current research work focuses on two areas: (a) trauma-informed and culturally aware practices for coaches and (b) understanding youth experiences of bias-based harassment.