AASP offers webinars on a regular basis, providing valuable education on a wide range of topics by experts in the field. These are also available for on-demand purchase & viewing if you miss the live presentation. While credits towards CMPC® recertification can be earned by participating in AASP webinars, all students, members, and non-members are welcome to participate in AASP webinars and virtual conferences for professional development.
Upcoming Webinar
If you are a current CMPC® needing to take the new certification exam as part of your recertification or looking to attain your credentials for the very first time, we want to provide you help to prepare! Our webinars are set up to provide a general overview of specific knowledge areas covered in the test.
Theories and Models in Sport Psychology: A Review for Those Preparing for the CMPC Exam
Thursday, November 14
12:00 pm - 1:15 pm Eastern
Mary Fry, PhD, University of Kansas
Candace Hogue, PhD, Penn State Harrisburg
Overview
Primary theories and models in sport psychology will be presented and highlighted for individuals preparing to take the CMPC exam. In particular, Achievement Motivation Theory, Self Determination Theory, and a host of theories and models addressing the stress/anxiety/performance relationships will be the focus. Special attention will be given to the application of this material for practitioners.
CE Credit
CE Credit is not offered for this session.
Registration
Click here to register now. Registration closes Tuesday, November 12.
Students - $25
AASP Members - $35
Non-Members - $50
Program Format
You can attend an AASP webinar from your home or office. All you need is an internet connection. You can see the presentation slides on your computer or mobile device, and listen to the audio through your device, or call in with a phone. Registrants will be provided with login information the day prior to the session. The webinar will also be archived for those who wish to watch it at a later date.
About the Speakers

Mary Fry is a professor in the Department of Health, Sport, & Exercise Science and Director of the University of Kansas Sport and Exercise Psychology Lab. She has served on the Executive Board of AASP and is a fellow within the organization. She is an Associate Editor for the Journal of Sport Psychology in Action and serves on the Editorial Board for the Journal of Applied Sport Psychology and Sport, Exercise, and Performance Psychology. Her research has centered around examining the benefits of creating caring and task-involving climates in sport and interventions to help coaches develop strategies to create such environments. She is a co-author of A Coach's Guide to Maximizing the Youth Sport Experience (Routledge).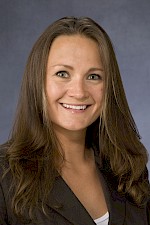 Candace Hogue is an assistant professor of Kinesiology at Pennsylvania State University and is the Director of the Penn State Harrisburg Sport and Exercise Psychology Lab. She currently serves on the Research Development Committee for AASP. Her research is largely focused on investigating the impact of the perceived motivational climate and mental skills training on participant psychophysiological stress and motivational responses in physical activity settings.
---
ARCHIVE
Webinars are 75 minutes; Virtual Conferences are 3 hours. To claim CE credits for an archived webinar, submit your registration confirmation email with your recertification application. You may also email us with the name of the webinar after you watch if you prefer a certificate.
---
Amplifying their Voices: Empowering Girls and Women in Sport
Speakers: Rob Owens, EdD, University of Western States & AASP Diversity Committee Chair & Emma Randall, MS, Beat the Streets New York City Wrestling
October 2019 | 1.25 CE Credits
Required CE area – Diversity
Supporting LGB Student-Athletes in College Athletics from a Scientist-Practitioner Approach
Speakers: Resa Lovelace, MEd, University of Maryland & Elizabeth Mullin, PhD, CMPC, Springfield College
May 2019 | 1.25 CE Credits
Required CE area – Diversity
CMPC Exam Review Webinar II - Neuropsychological / Physiological Bases of Performance
Speakers: Penny Werthner, PhD, University of Calgary, Sommer Christie, PhD, University of Calgary, Louis Passfield, PhD, University of Calgary
May 2019
Please note, no CE credit is offered for this session.
Virtual Conference: Best Practices in Starting, Developing, and Sustaining a Private Practice
Speakers: Carly Anderson, PhD, CMPC, Premier Sport Psychology, USA; Justin Anderson, PsyD, Premier Sport Psychology, USA; Angel Brutus, PsyD, Mississippi State University, USA; Kate F. Hays, PhD, CMPC, The Performing Edge, Canada; Traci Statler, PhD, CMPC, Cal State Fullerton, USA; Shameema Yousuf, CMPC, Empower2Perform, UK
April 2019 | 3.0 CE Credits
K2: Sport Psychology
Teaming Up: Establishing and Navigating Effective Multidisciplinary Teams to Best Serve Clients
Speakers: Jeni Shannon, PhD, CMPC, University of North Carolina, Chapel Hill & Lauren Tashman, PhD, CMPC, Align Performance LLC
March 2019 | 1.25 CE Credits
K2: Sport Psychology
Developing Resilience for Sustained Success: Science to Practice
Speaker: Mustafa Sarkar, PhD, Nottingham Trent University
December 2018 | 1.25 CE Credits
K2: Sport Psychology
CMPC Exam Prep Webinar I - Assessment of Individuals, Teams/Groups & Organizations
Speakers: Ale Quartiroli, PhD, CMPC, University of Wisconsin - La Crosse & Christopher Wagstaff, PhD, University of Portsmouth
November 2018
Please note, no CE credit is offered for this session.
Professional Development as a Journey - with the Supervisor as a Tour Guide
Speakers: Jess Bartley, PsyD, CMPC, University of Denver & Vana Hutter, PhD, VU University Amsterdam
September 2018 | 1.25 CE Credits
CMPC Required CE Area: Mentorship/Supervision
Essential Ethics for the AASP Professional
Speakers: Ed Etzel, EdD, CMPC, West Virginia University & Brandonn Harris, PhD, CMPC, Georgia Southern University
May 2018 | 1.25 CE Credits
K1: Professional Ethics and Standards; Required CE area – Professional Ethics
Virtual Conference: Beyond the Arena - Consulting with Non-Sport Performance Populations
Speakers: Michael Asken, PhD, Pennsylvania State Police, Charlie Brown, PhD, Get Your Head in the Game, Noa Kageyama, PhD, The Juilliard School, Jean François Ménard, Kambio Performance, Glenn Pfenninger, CMPC, Ignite Performance Groups
April 2018 | 3.0 CE Credits
K2: Sport Psychology
Becoming the Instructor You Wish You Had: A Graduate Student and Young Professional's Guide to College Teaching
Speakers: John Coumbe-Lilley, PhD, CMPC, University of Illinois at Chicago, Pete Kadushin, PhD, Western State Colorado University, Amber Shipherd, PhD, CMPC, Texas A&M University - Kingsville
February 2018 | 1.25 CE Credits
K2: Sport Psychology
Red Pill, Blue Pill: Decoding the Matrix of Cultural Diversity and Inclusion
Speakers: Leeja Carter, PhD, Long Island University-Brooklyn & Kensa Gunter, PsyD, CMPC, Private Practice, Atlanta, GA
December 2017 | 1.25 CE Credits
K8: Diversity and Culture; Required CE area – Diversity
Athletes in the Age of Addiction: Trends, Implications and Interventions
Speakers: LaTisha Bader, PhD, CMPC, Center for Dependency, Addiction and Rehabilitation (CeDAR) & Kelsey Erickson, PhD, Leeds Beckett University
September 2017 | 1.25 CE Credits
K4: Psychopathology
Preventing and Treating Eating Disorders in Athletes: Updates, Resources, and Recommendations for Researchers and Practitioners Working Together
Speakers: Dana K. Voelker, PhD, CMPC, West Virginia University & Riley Nickols, PhD, McCallum Place Eating Disorder Centers
June 2017 | 1.25 CE Credits
K4: Psychopathology
Virtual Conference: In Order to Thrive, The Field of Sport Psychology Must...
Speakers: Wendy Borlabi, PsyD, CMPC, Chicago Bulls, Mike Chu, New Zealand Rugby, Alex Cohen, PhD, CMPC, United States Olympic Committee, Jonathan Fader, PhD, CMPC, SportStrata, Laura Finch, PhD, CMPC, St. Cloud State University, Eric Wedge, Toronto Blue Jays
April 2017 | 3.0 CE Credits
K2: Sport Psychology
Career Transitions in Sport: New Trends in Research and Practice
Speaker: Natalia Stambulova, PhD, Halmstad University, Sweden
February 2017 | 1.25 CE Credits
K2: Sport Psychology
Sport Psychology Services for Elite Athletes Who Have Disabilities: Lessons Learned and Implications for Practice and Research
Speakers: Sara Mitchell, PhD, United States Olympic Committee & Jamie Shapiro, PhD, CMPC, University of Denver
December 2016 | 1.25 CE Credits
K8: Diversity and Culture; Required CE area – Diversity
Mental Health in Collegiate Athletics: The Role of Sport Psychology
Speakers: Jesse Steinfeldt, PhD, CMPC, Indiana University & Carmen Tebbe Priebe, PhD, CMPC, University of Iowa
August 2016 | 1.25 CE Credits
K4: Psychopathology
Virtual Conference - Consulting With Elite Sport
Speakers: Ceci Clark, MS, Cristina Fink, PhD, Colleen Hacker, PhD, CMPC, Aimee Kimball, PhD, CMPC, Ian Maynard, PhD, Sean McCann, PhD, CMPC
February 2016 | 3.0 CE Credits
K2: Sport Psychology
Mindful Attention and The Elite Athlete
Speakers: Amishi Jha, PhD, University of Miami & Peter Haberl, EdD, United States Olympic Committee
September 2015 | 1.25 CE Credits
K2: Sport Psychology
Virtual Conference - Changing the Game: Transformative Advances in Youth Sport
Speakers: Lindsey Blom, PhD, CMPC, Jean Côté, PhD, Tom Farrey, Vicki Harber, PhD, Katherine Tomaino, MPH, Amanda Visek, PhD, CMPC
April 2015 | 3.0 CE Credits
K2: Sport Psychology
Applied Psychophysiology: Biofeedback and Neurofeedback for Sport Psychology Scientists and Practitioners
Speakers: Lindsay Thornton, EdD, United States Olympic Committee & Leonard Zaichkowsky, PhD, Sport Science Consultant
January 2015 | 1.25 CE Credits
K7: Psychological Foundations of Behavior
Now You See Me, Now You Don't: Appreciating the Context of Multiculturalism and Intersectionality within the Framework of Sport and Exercise Psychology Consultations
Speakers: William Parham, PhD, ABPP, Loyola Marymount University & Carole Oglesby, PhD, CMPC, Temple University - Emeritus
August 2014 | 1.25 CE Credits
K8: Diversity & Culture; Required CE area – Diversity
Best Practices in Supervision for Developing Competent Consultants
Speakers: Judy Van Raalte, PhD, CMPC, Springfield College & Artur Poczwardowski, PhD, CMPC, The University of Denver
July 2014 | 1.25 CE Credits
Required CE area – Mentorship/Supervision
Exercise Psychology In Practice: Using Sport & Exercise Psychology Skills and Training to Promote Physical Activity Across the Lifespan
Speakers: Joan Duda, PhD, CMPC, University of Birmingham & Sam Zizzi, PhD, CMPC, West Virginia University
February 2014 | 1.25 CE Credits
K2: Sport Psychology
Performance Enhancement for College Athletes
Speakers: Ken Ravizza, PhD, CMPC, California State University, Fullerton & Nicki Moore, PhD, University of Oklahoma
December 2013 | 1.25 CE Credits
K2: Sport Psychology
Psychosocial Applications in Sport Injury Rehabilitation: An Evidence-Based Approach
Speakers: Britton Brewer, PhD, CMPC, Springfield College & Jordan Hamson-Utley, PhD, ATC, Weber State University
June 2013 | 1.25 CE Credits
K2: Sport Psychology
Performance Psychology within the Military
Speakers: Dave Riccuti, EdD, CMPC, Special Operations Cognitive Enhancement & Performance (SOCEP), Shannon Baird, PhD, Comprehensive Solider & Family Fitness (CSF2), U.S. Military, & Ceci Clark, MS, Special Operations Cognitive Enhancement & Performance (SOCEP)
April 2013 | 1.25 CE Credits
K2: Sport Psychology
Starting and Sustaining Your Private Practice
Speakers: Carrie Cheadle, MA, CMPC, carriecheadle.com & Jack J. Lesyk, PhD, CMPC, Ohio Center for Sport Psychology
January 2013 | 1.25 CE Credits
K2: Sport Psychology
Mental Preparation for the Olympic Games
Speakers: Daniel Gould, PhD, CMPC, Michigan State University & Sean McCann, PhD, CMPC, United States Olympic Committee
August 2012 | 1.25 CE Credits
K2: Sport Psychology