Advocacy Committee
The Advocacy Committee (AC) will be responsible for coordinating the Association for Applied Sport Psychology's (AASP) internal and external advocacy initiatives as they relate to AASP membership, and sport-related issues within local, state, national, and international sectors. Often in collaboration with AASP's Diversity Committee, the Ethics Committee, and the International Relations Committee, the Advocacy Committee's role is broadly focused on generating and coordinating advocacy efforts that put into action AASP's commitment to diversity, inclusion, and social justice.
Within the context of sport, exercise, and performance psychology (SEPP), advocacy can be broadly understood as actions, behaviors, or initiatives by organizations or individuals, who hold some degree of power (e.g., influence, status, authority), done on behalf of (and often in collaboration/solidarity with) those with less power or greater vulnerability (Sappington & Carter, 2020). In this way, the Advoacy Committee will work with the AASP Executive Board, Diversity and Inclusion Council, other AASP committees, and AASP membership to create structural change that fosters an inclusive culture as well as advocates for and fosters the physical, emotional and psychological safety and well-being of individuals within sport and the SEPP community - particularly those among historically marginalized groups.
The committee's objectives and mandates will evolve in response to social justice-related needs and issues in sport, exercise, and performance settings. Examples of Advoacy Committee initiatives or "projects" may include, but are not limited to:
Responding to modern and historical forms of injustice in sport by generating and coordinating initiatives that confront racism, sexism, patriarchy, White supremacy, homonegativity, trans negativity, sexual violence, ableism, classism, xeno negativity, and other longstanding forms of discrimination, hate, oppression, and harm;
Working in collaboration with the Diversity, International Relations, and Ethics Committees and Special Interest Groups (SIGs) to generate and coordinate initiatives that promote research and applied work focused on issues of diversity, inclusion and social justice;
Identifying and disseminating evidence-based advocacy knowledge and ethical best practice for applied SEPP practitioners;
Building working relationships with key stakeholders in sport, academia, and other related fields to support integrative and collaborative approaches to advocacy (e.g., NCAA, NASSS, NASSM, FEPSAC, ISSP, IOC and APA – Division 47);
In concert and collaboration with aligned AASP committees and SIGs, monitoring and contributing to advocacy policies of local, state, national, and international sport psychology, athletic organizations, and areas that impact the practice of sport psychology;
Working jointly with AASP committees and SIGs to prepare analysis of proposed policies, resolutions, or oversight topics and writing testimony, position statements, fact sheets, comment letters, and Q&A related to advocacy initiatives;
Establishing a clearinghouse of position papers, documents, and other digital resources related to advocacy in sport and exercise settings. (e.g., resource lists, better practices)
Leadership Council: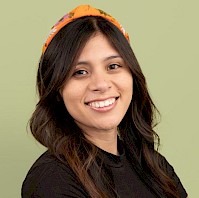 Deyanira Enriquez
Deyanira "Deyja" Enriquez is a doctoral student pursuing a Ph.D. in Counseling Psychology with a specialization in Sport & Performance Psychology at Boston University. Here she provides mental performance services to BU teams and student-athletes competing at the Division-I level. Prior to BU, Deyja earned her Master's degree in Sport & Performance Psychology with a specialization in Latinx Psychology from the University of Denver. She completed her undergraduate career in her hometown of Boulder, CO, at the University of Colorado where she majored in psychology and sociology with a minor in business. Deyanira has experience in eating disorder care, college counseling, and the juvenile justice system, where she has cemented her passion for advocacy and offering bilingual services. She has also worked as a mental performance consultant from the youth to the professional level for a variety of sports, including basketball, track & field, soccer, and hockey. She has conducted research work surrounding stereotyping, prejudice, and microaggressions in sport. She also conducts community-based research in conjunction with a Boston community organization helping Latine youth learn about STEM and their own career development.

Mallori Girard
Mallori Girard is a doctoral candidate in Recreation, Park, & Tourism Sciences at Texas A&M University. She has a particular interest in youth sport programs, specifically in their ability to promote character development, as well as making sport a more inclusive context for marginalized youth populations, namely transgender youth. Her dissertation research explores the relationship between protective factors and adverse lived experiences on a transgender young person's likelihood to participate in sport. Being a lifelong athlete, she has first hand experience of the opportunities sport has to offer, and wants to ensure that all young athletes are given the right tools to become positive contributors to their communities. She believes that all human lives are valuable and deserve to be granted the same opportunities, despite their sexual orientation and/or gender identity.
Joanna Line
Dr. Jo Line (she/her/hers) studies sport from a feminist cultural studies perspective with the aim of helping teams maximize their collective capacity. Her primary focus is inclusive leadership development in college sport. Jo is an Assistant Professor and the Fieldwork and Partnerships Coordinator in the Sport Management Department at Hiram College. Jo also is an adidas x Athlete Ally Research Fellow and Athletics Inclusive Climate and Belonging Senior Specialist at Athlete Ally. Jo's work is informed by her experience coaching Division I, Division III, and USCAA cross country and track and field programs and community running programs. She also was a college athlete and earned seven NCAA All-American honors in cross country, indoor track, and outdoor track during her tenure at Oberlin College. After graduating, she was awarded a Watson Fellowship to explore the experiences of women runners in different cultural contexts, during which she trained and competed with teams around the world, in countries including Ethiopia, France, Norway, and Singapore. She continues to train and compete in races, ranging from 5ks to marathons.

Derek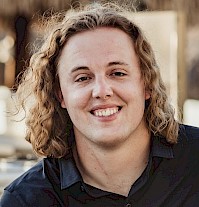 Zike
Derek M. Zike, MS, (he/him/his) is a wheelchair user who identifies as a person with an acquired disability. Born and raised in Fishers, Indiana, Derek sustained a spinal cord injury playing ice hockey at 16 years old. Derek earned both his M.S. and B.S. in Kinesiology and Health from Miami University, USA, and is currently a doctoral candidate in Sport and Performance Psychology at the University of Wisconsin-Milwaukee (UWM), USA, with an anticipated PhD completion in 2023. Derek is a disabled emerging scholar whose research focuses on critical disability studies, with a particular focus on the psychosocial impact of acquired physical disability from sport. Derek serves both the sport psychology and disability community in a number of ways. He is the Junior Managing Editor of the Journal for Advancing Sport Psychology in Research and a Leadership Council member of the Advocacy Committee of the Association for Applied Sport Psychology. Derek also holds service positions on UWM campus; he is a leader of the Disability Rights, Education Activism, and Mentoring student organization, and founding officer of the Sport Psychology and Performance Excellence student organization.

Advocacy Committee Chair: Joanne Line