Kensa Gunter, Immediate Past President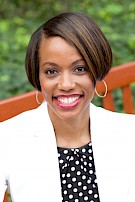 Dr. Kensa Gunter is a licensed psychologist and a Certified Mental Performance Consultant (CMPC) through the Association for Applied Sport Psychology (AASP). In her Atlanta based private practice, she works with athletes providing individual counseling and sport psychology services. She has worked with athletes from individual and team sports competing at high school, collegiate, & professional levels. Dr. Gunter also provides consultation services to local organizations and serves as the clinical sport psychologist for a Division-I athletic department and local professional sport organizations.
Dr. Gunter received her Psy.D. in Clinical Psychology with a concentration in Sport Psychology from Argosy University/Phoenix in 2006. She completed her internship and postdoctoral fellowship at the University of California in Davis. She also holds a Master's degree in both Clinical & Forensic Psychology and a Bachelor of Science degree in Psychology.
Dr. Gunter is passionate about helping people particularly related to enhancing mental performance and decreasing the stigma around mental health. She is an advocate for cultural diversity and for being more intentional about inclusion in the context of sport and society. She served as Division 47's invited speaker for the Steven R. Heyman Memorial Keynote Lecture at the 2018 APA Convention. Within AASP, she presently serves as a member of the Diversity Committee and has previously served on the Certification Review Committee, the Interim Certification Council and she was the Coordinator for the 2017 AASP-HBCU Regional Conference. Dr. Gunter is also listed on the United States Olympic Committee Sport Psychology Registry.