Webinar
Transgender Athletes: Challenges Faced and Considerations for Clinical Work and Support
Webinar Archive
If you already purchased this webinar, you can access the archive.
Otherwise, you can register for access to the archive.
Keep your confirmation email(s) as CEU documentation for AASP webinars and virtual conferences.
Description
Speakers
Mac Brown, PsyD, CMPC, University of Colorado
Weston Durham, MS, LPC, Oklahoma State University

Moderator
Aidan Kraus, EdM, Boston University
Overview
This webinar will review the historical notions of fair play in sport and the resulting creation of gender verification to prevent unfair competitive advantages - all to provide context to present-day challenges for transgender athletes within the binary nature of sport participation. In particular, transgender women experience more difficulty with competing in the sport aligning with their gender identity than transmen.
Policies for participation at the collegiate and Olympic levels will be highlighted. Information about state and federal protections (or lack thereof) will also be shared and how that impacts athletes in higher education and professional settings. Suggestions for systemic support and policy development will be discussed. Finally, an overview of best practices for psychological practice with transgender and gender nonconforming individuals will be provided.

Learning Objectives
Following the presentation, attendees will be able to:
Demonstrate a foundational knowledge of policies and regulations for transgender athletes to participate in sport
Understand state and federal protections for LGBTQ populations and how that may impact their ability to play as well as their personal lives and well-being
Begin to discuss and understand ways to advocate at a systemic level for support and inclusion in athletic settings for transgender athletes
Identify how to support the individual from a clinical standpoint while navigating such challenges

References
American Psychological Association. (2015). Guidelines for psychological practice with transgender and gender nonconforming people. American Psychologist, 70(9), 832-864.
Gray, A., Crandall, R.E., & Tongsri, J. (2018). Transgender student-athletes and their inclusion in intercollegiate athletics. In New Directions for Student Services, no. 163 (43-53). Wiley Online Library: Wiley Periodicals, Inc.
Jones, B.A., Arcelus, J., Bouman, W.P., & Haycraft, E. (2017). Sport and transgender people: A systematic review of the literature relating to sport participation and competitive sport policies. Sports Medicine, 47, 701-716.
NCAA Office of Inclusion. Including transgender student athletes in collegiate athletics: Making fair policy and enacting best practices [PowerPoint slides]. Retrieved from https://www.ncaa.org/sites/default/files/NCAA%2BWorkshop%2B-%2BTransgender%2BParticipation.ppt.
Sullivan, C.F. (2011). Gender verification and gender policies in elite sport: eligibility and "fair play." Journal of Sport and Social Issues, 35(4), 400-419.
Reeser, J.C. (2005). Gender identity and sport: Is the playing field level? British Journal of Sport Medicine, 39, 695-699.
Viel, B. & Demers, G. (2013). Coaching gay, lesbian, bisexual and transgender athletes: Needs, challenges, and fears of top-level coaches. Canadian Journal for Women in Coaching Online, 13(3).
CE Credit
This program has been approved for 1.25 hours of CE in the area of diversity to partially meet the continuing education recertification requirement for Certified Mental Performance Consultants® (CMPC).
Program Format
You can attend an AASP webinar from your home or office. All you need is an internet connection. You can see the presentation slides on your computer or mobile device, and listen to the audio through your device, or call in with a phone. Registrants will be provided with login information the day prior to the session. The webinar will also be archived for those who wish to watch it at a later date.
Speakers

Mac Brown, PsyD, CMPC (he/him)
Dr. Mac Brown joined the Psychological Health and Performance team at the University of Colorado's Athletic Department in February 2020 as the Assistant Director, Training Coordinator. As a former NCAA Division I athlete, he enjoys providing support for student-athletes negotiating their identities as young adults while juggling academics and athletics. Challenges that may arise during that time that Brown has experience working with include mood disorders, grief and loss, performance enhancement, transition out of sport, injury, relationship difficulties, gender identity, and sexual orientation. Brown earned his bachelor's of science in Psychology with a minor in Philosophy from The University at Buffalo: The State University of New York in 2009 and was a member of the rowing team. He then completed a Masters in Psychology with a concentration in sport and exercise psychology as well as his doctorate in Clinical Psychology from The Chicago School of Professional Psychology in 2011 and 2016, respectively. Brown is a licensed clinical psychologist in the state of Colorado and acquired his Certified Mental Performance Consultant (CMPC) certification through the Association for Applied Sport Psychology (AASP). He is a finisher of the Lake Placid Ironman 2019 and lover of all things endurance related whether it is triathlon, running, or rowing. He also enjoys snowboarding, rock climbing, outdoor activities like camping or hiking, and enjoys live music.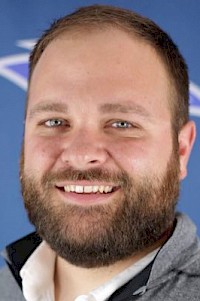 Weston Durham, MS, LPC (he/him)
Weston is a doctoral candidate in Counseling Psychology at Oklahoma State University. His interest is in the meeting place of sexual and gender diverse individuals and performance identity as well as the experience of survivors of religious fundamentalist/authoritarianism environments. Weston believes advocacy is a central tenant to being a good citizen of our planet and is actively engaged in advocating for policy initiatives involving sexual and gender diverse individuals as well as the wellbeing of student athletes. Before starting his PhD, Weston worked as a licensed professional counselor for 8 years in the state of Texas. He worked with athletes, performers, and sexual and gender diverse issues across the lifespan but with a focus on teens in a place of questioning.

Moderator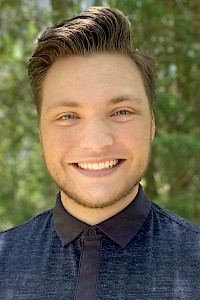 Aidan Kraus, EdM (they/them)
Aidan is pursuing a Ph.D. in Counseling Psychology with a Specialization in Sport & Performance Psychology at Boston University (BU) Wheellock College of Education & Human Development. Aidan is particularly interested in how the mental health of student-athletes influences and is influenced by collegiate athletics, which stemmed from their research on athlete mental health and diversity and inclusion. As a former collegiate student-athlete and proud member of the LGBTQIA+ community, they strive to create more welcoming and affirming spaces for high school and collegiate student-athletes who identify as transgender and/or gender-nonconforming. They plan to dedicate their career and research to advocating for more inclusive practices and policies for those often underrepresented within sport and athletic competition. Before pursuing a doctorate, Aidan earned a Master's in Mental Health Counseling with a Specialization in Sport & Performance Psychology at BU Wheelock College and completed a B.A. in American Studies with a Specialization in the Psychology of Sport at Smith College, MA. Aidan has served as a Student Delegate through the Association for Applied Sport Psychology (AASP) since 2018 and is currently a Co-Chair of the Social Justice Initiative. Further, in 2019, they were elected as a Co-Chair of the Pride (LGBTQ+) Special Interest Group through the organization. Additionally, they serve the American Psychological Association as a Student Representative of the Division 17 Section for LGBT Issues and are an elected member of the American Psychological Association of Graduate Students' Committee on Sexual Orientation and Gender Diversity (CSOGD).
Registration
Students – $25.00
Members – $35.00
Non-members – $50.00
Register to access the archive
---