AASP 2016 Conference Recap
Amy Baltzell, EdD, CMPC, AASP President-Elect, Boston University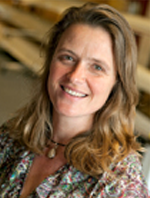 AASP's 31st Annual Conference in Phoenix was a week of inspiring, rich sessions with the second largest attendance (of 1,125) on record. A big thanks goes out to us, the AASP membership, for providing a broad range of topics we shared with one another and for the tremendous amount of effort of Past-President Rob Schinke, the Conference Planning Committee (truly impressive leadership by Traci Statler!) and Kent Lindeman with his support staff, to make it all happen. I was grateful to witness the passion, steadiness and hard work from the Executive Board the three days prior to the conference, carefully considering the AASP Strategic Plan in an effort to strengthen both our organization and the field of sport and exercise psychology.
Robert Schinke (L) with
Stuart Biddle
We had a series of outstanding researchers who offered empirically robust presentations paired with practical and cutting edge applied ideas. Stuart Biddle (Victoria University - Australia), our Opening Keynote speaker, provided a convincing argument for the value of moderate exercise (i.e., he contends that low to moderate exercise may be the key for some public health concerns) and warned against fully buying into present solutions (e.g., those who use a stand-at work desk are more likely to sit more when not working). Aidan Moran (University College - Dublin) offered a mesmerizing, conceptually rich talk on the power of imagery and future consideration for the value of eye tracking. Gershon Tenenbaum (Florida State University), deservedly honored with the Coleman Griffith Lecture, presented an empirically robust talk on The Scientist-Practitioner Model in Sport Psychology: A Guide for AASP Performance Enhancement Consultant Practice.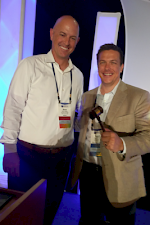 Brent Walker (L) with
Angus Mugford
Past-President Brent Walker's good-humored, powerful presence and high commitment to the well-being of AASP are hard (and big) shoes to fill. Gratefully, Brent passed the gavel to an equally inspiring, brilliant leader. AASP President Angus Mugford definitely demonstrated his commitment to AASP when he opted to stay at the conference while his pro baseball team was playing in a critical MLB playoff series. In his inspiring and likeable manner, Angus delivered a presidential speech that kept us all engaged while clearly sharing his vision: increasing employment of AASP applied sport and exercise psychology practitioners. He clearly outlined ways to improve the status of our field – from defining our identity, marketing and job creation to strengthening AASP certification and professional standards. He left us considering "what's relevant" for decision makers who can employ sport psychology practitioners, which he identified as the important intersection between (1) what interests future employers of sport and exercise psychology practitioners and (2) what we think is important. Angus's vision, energy, and clarity were inspiring to witness.
Olympic Panel (L to R): Traci Statler, Peter Haberl, Renee Appaneal & Göran Kenttä
Sport Psych Service Provision for the Rio Olympic and Paralympic Games
Traci Statler, Peter Haberl, Renee Appaneal, and Göran Kenttä, delivered a fascinating international keynote panel about their varied work at the Rio Olympic and Paralympic Games. Their responses were inspiringly transparent as they discussed the beauty and challenges of working non-stop for weeks (one panelist noted 20 hour days) in each of their roles at the Games. They openly discussed myriad topics from challenges of providing self-care, out-of-sport issues and strategies to help athletes navigate the [sometimes] overwhelming media demands from around the world at the Games.
Diana Nyad
Swimming from Cuba to the US at age 64!
Extreme endurance swimmer and master athlete Diane Nyad provided a well-polished, inspirational narrative of her 30-year dream and later all-consuming quest to make the seemingly impossible 103 (or longer) miles solo swim from Havana, Cuba to Key West, Florida. In 2013, at age 64 on her fifth attempt (with her first attempt in 1978), she touched the shores of Florida after a long night of singing and hallucinations. Her presentation was a refreshing change-up from the rigorous research-driven and insightful applied practitioner presentations. She demonstrated a powerful, musical use of self-talk as she sang Neil Young's lyrics, "I caught you knockin' at my cellar door, I love you, baby, can I have some more. Ooh, ooh, the damage is done."
In addition to these bigger events, there were many, many fantastic workshops, panels, lectures, and posters. It would be impossible to capture the variation, professionalism, and the generosity that was palpable throughout the week, from the SIG 5-slides in 5-minutes presentations to the energy at the poster sessions to the Graduate Program & Information Fair.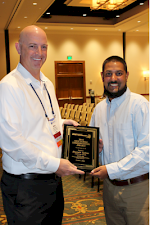 Brent Walker (L) with
Mustafa Sarkar
Jack Lesyk (L) with Kate F. Hays
We had many well-deserved award winners from our highly productive and visible sport psychologist, Kate F. Hays, receiving the Distinguished Professional Practice Award; Mustafa Sarkar, our Dissertation Award winner; Anthony Battaglia, our Master's Thesis Award winner; to students from around the country receiving the relatively new Student Diversity Conference Travel Grants.
Some big changes were agreed upon at the Business Meeting through heartfelt and respectful dialogue. We voted in a new position, Membership Services Division Head, with Lani Lawrence the first serving in this role. If you have recommendations about how we can do things better to serve our membership, she is the go-to person!
We also voted to support a big change: a move to create a new competency-based certification exam. AASP must work together as we create a certification that will be publically recognized as the gold standard and requisite to serve as a sport psychology practitioner – and one that honors the high standards of the CMPC credential.
5k Fun Run/Walk Participants
Our off-session times at the conference were precious. From the 5k Fun Run/Walk, to chats with new friends and old between sessions or at the social gatherings – we all have the good fortune of being part of a caring, highly committed, compelling and yet greatly varied community. I am definitely grateful to be a part of AASP.
There has been deep thinking and planning that went into creating the Strategic Plan. I look forward to working together to bring these ideas to fruition. I also hope to encourage each of you to bring your gifts and inspiration to AASP. When we are able to bring the highest standards to our research and writing, draw on related fields to look for answers to improve the services we provide, and share new, inspired ideas to the table – we will strengthen our community and bring more good to our clients, students, athletes, performers, organizations and peers. Wishing you a productive, engaged Fall, I end with a photo when we shared a moment recognizing Burt Giges, a true inspiration.
Happy Fall All.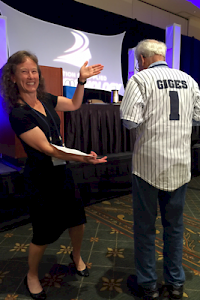 Judy Van Raalte (L) with Burt Giges