Angel Brutus, Professional Standards Division Head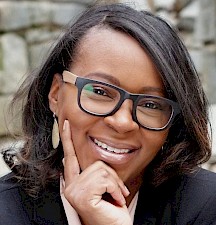 Dr. Angel Brutus is a member of the USOPC's Mental Health Services Leadership Team as part of the department of sports medicine. She serves in this role after serving as the inaugural Assistant Athletic Director of Counseling and Sport Psychology for Mississippi State University where she provided direct clinical and performance enhancement services, served as an administrator and developed programming to address MSU's sports culture. She also managed a private practice based in Atlanta, Georgia where she provided clinical and sport performance services to individuals, teams, and organizations. There she served as a medical advisory board member and training facilitator for the Eating Disorders Information Network (EDIN).
Her training includes Audiology and Speech-Language Pathology, Licensed Professional Counseling, Certified Rehabilitation Counseling and Sport-Performance Psychology. Angel is certified in Mental Health First Aid for adults. She is also a Certified Mental Performance Consultant and serves as former coordinator for the Association for Applied Sport Psychology's (AASP) Race & Ethnicity in Sport Special Interest Group (SIG) – member of additional SIGs (Women in Sport, Anger and Violence in Sport, Eating Disorders in Sport, Adaptive Sport & Physical Activity) and is a member of multiple committees within AASP. She previously co-chaired the theNominations/Leadership Development and previously served on the Professional Ethicsand as an IGNITE mentor.
She is also a member of a few additional professional organizations, to include the American Psychological Association (Secretary/Treasurer 2022; Program Chair 2020), International Society of Sport Psychiatry, EMDR International Association, American Counseling Association, Licensed Professional Counselors Association of Georgia and the California Association for Licensed Professional Clinical Counselors (Board Member 2022; Membership Committee; Fellows Mentor).
In her spare time, she enjoys spending quality time with her three daughters and husband, engage as a community volunteer with philanthropic organizations targeting underserved youth, and mentoring students interested in pursuing careers in the helping profession.