Focus on Performance Training: The Ins and Outs of IMG Academy
Lindsey Hamilton, MS, IMG Academy
Taylor Stutzman, MA, IMG Academy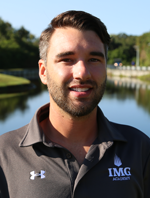 IMG Academy is a full-time boarding school and training facility, offering the opportunity for student-athletes to succeed at the highest levels academically, athletically, and socially. Athletes representing nearly 100 countries relocate to our campus in Bradenton, Florida to train in one of our eight primary sports: baseball, basketball, football, golf, lacrosse, soccer, tennis, and track & field. While the primary clients at IMG Academy are full-time boarding student-athletes aged six to 19, we also regularly serve youth campers, parents, collegians, coaches, and professional athletes, teams, and businesspeople from a variety of backgrounds and sports by providing access to high-performance psychological skills training.
In addition to the outstanding sport coaches, world-class facilities, and high academic standards, what sets IMG Academy apart from other institutions is our focus on performance training. Performance specialists challenge the student-athletes to inch closer to their potential through exposure to and application of physical training, leadership and character development, nutrition, cognitive-perceptual training, and of course, mental conditioning. The mental conditioning is delivered by our 12 sport psychology professionals – all of whom are AASP members, including 4 AASP Certified Consultants.
How Does It All Work?
Each mental conditioning coach (MCC) is assigned to work with one or more of our sports, and with between 5-8 groups. Due to the high number of student-athletes (up to 160 per MCC), we mostly deliver mental conditioning in a team/group format. Every week, we have scheduled time to meet with each group; whereas, individual mental conditioning sessions are conducted on an as-needed basis. The MCCs also engage in "live-coaching", which involves being at practices and competitions where they can get additional face-time with their student-athletes and reinforce the principles taught in the weekly group meetings.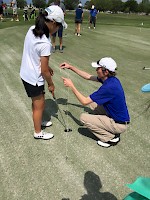 One of the advantages that we enjoy at IMG Academy is our scheduled integration within our sports. Unlike some other sport psychology positions, we don't have to compete for times to meet with teams as we are integrated into their sport programming. This affords us more contact time with our teams and support staff, both in the classroom and on the field, which then allows us to better understand their needs.
The regular integration within our sports also offers the ability to get lots of practice as practitioners. Between our core sessions with teams, the additional specialized courses we lead such as mindfulness, time management, empowered female athletes, and cognitive-perceptual training, and our regular session delivery to campers (who join us to train for 1-3 weeks at a time), it is not uncommon for us to present or deliver upwards of 20 sessions a week.
Training a High Performance Mindset (HPM)
To structure our curriculum, our mental conditioning team crafted the Guiding Principles of a High Performance Mindset (HPM). By utilizing research, personal consulting experience, and interactions with players and coaches, we developed this model to encapsulate what a HPM entails. This evidence-based model serves as our curriculum foundation, from which we then implement games, activities, videos, and stories to make the mental conditioning sessions more experiential and memorable. In order to be able to communicate the evidence-based principles, we rely heavily on our ability to simplify or adapt content into a user-friendly framework. For example, when teaching focus using Nideffer's Model of Attention, one of our colleagues, David da Silva, has used the graphic pictured here with young tennis players to illustrate the attentional shifts involved between points.
He has intentionally worded each quadrant to represent a distinct part of a between-point routine to better facilitate a practical understanding of the principles in Nideffer's model. After this education piece, we often design an activity that allows the athletes to experience these attentional shifts, watch a video of a tennis match, and have them attempt to identify each phase of attention, or take them to the court and walk them through the process.
Developing Mental Conditioning Practitioners
IMG Academy creates a great opportunity for young practitioners in the field to gain valuable applied experience. We annually hire between 5-10 mental conditioning coaches to join the full-time staff to deliver mental skills sessions to our camp clients during the summer months. These 6-9 week positions are typically in high demand, and are open to applicants who are currently enrolled or have completed graduate degrees in sport psychology, are dynamic presenters, and are eager to grow as practitioners. While these summer staff positions are not typically meant to lead to full-time positions, we have recently created a one-year Assistant Mental Conditioning Coach position that allows for a brief extension of one of our summer staff members.
Join us!
We would like to extend an open invitation to sport psychology students, new consultants, and veteran practitioners alike to come check out the fast-paced machine that is IMG Academy. We love sharing what we do here and learning from our peers in the field as well. We look forward to seeing you in Bradenton, FL at IMG Academy!