31-Day AASP Mental Wellness Challenge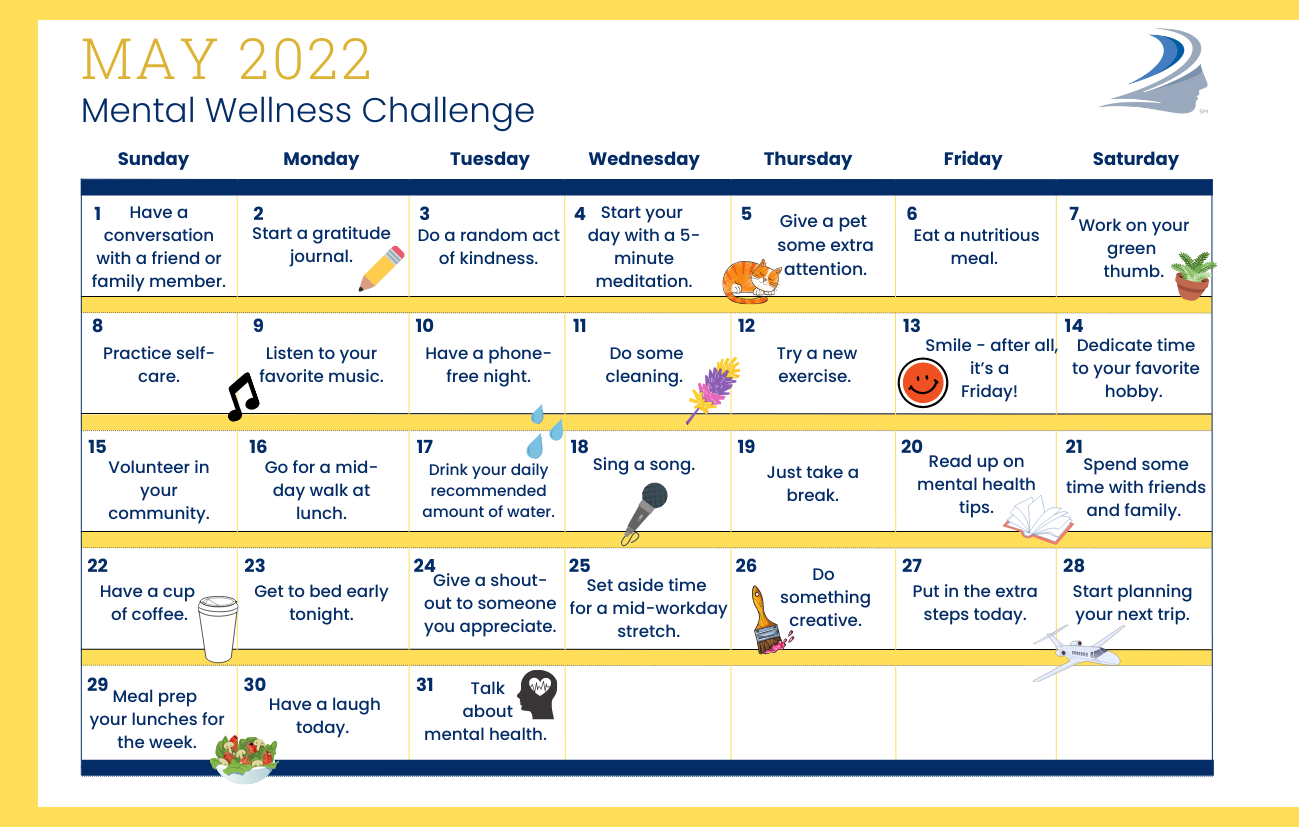 Published
To celebrate Mental Health Awareness Month this May, AASP invites you to prioritize yourself by completing our 31-Day Mental Wellness Challenge: a series of daily tasks to bring mental health to the forefront of your mind and allow you to take a moment for restorative self-care.
AASP will challenge you with a daily activity throughout the month of May and encourages you to share your journey with the AASP community by using the hashtag #AASPChallenge2022.
Be sure to follow AASP on Facebook, Twitter and Instagram for daily challenge reminders and tips!
Daily Challenges:
Week 1
1. Have a conversation with a friend or family member.
It's important to stay connected with the people who support and care about you. So give a friend a call, say 'hello' in a text message, or just sit down and chat with a loved one at home.
2. Start a gratitude journal.
At the end of each day, take a few minutes to write down the positive events that happened to you and make note of how they made you feel. Cultivating gratitude is a skill that enhances mental well-being.
3. Do a random act of kindness.
Pay for someone's coffee, write a coworker an encouraging note, or donate some of your old clothes to a charity. A small act of kindness can go a long way and turn your day around - and someone else's!
4. Start your day with a 5-minute meditation.
Before you dive into the hustle and bustle of your busy day, start off with a few minutes just to yourself. Spend a little bit of time alone with your thoughts this morning to begin the day mentally clear and emotionally calm.
Mental Reset in 5 Minutes - Guided Mindfulness Meditation
5. Give a pet some extra attention.
Spending time with pets can actually lower the stress hormones in your brain and help you manage your mental health (if you even need another reason to play with your pet today.)
6. Eat a nutritious meal.
What are your dinner plans tonight? Try to incorporate as many fruits, vegetables, omega-3 fatty acids, nuts, lean proteins, and legumes into your diet as possible. These foods help protect your brain, while sugar and processed meals can be linked to mood disorders, including anxiety and depression.
7. Work on your green thumb.
Whether it's a windowsill flower or a full outdoor vegetable garden, growing plants has been proven to increase memory retention and creativity, as well as aid in stress reduction. So let's get planting!
Week 2
8. Practice self-care.
Take some time for yourself today. Rejuvenating your body has both short-term and long-term benefits for mental well-being.
5 Self-Care Practices for Every Area of Your Life
9. Listen to your favorite music.
Whether it's classical music or heavy metal, jazz or hip hop, music has a powerful effect on the brain. Listening to your favorite band, song, or genre can change your mindset and boost your mood.
10. Have a phone-free night.
Your phone's light can interfere with your ability to sleep - keeping you awake far past your bedtime. This can cause unnecessary stress and have an overall negative impact on your mental health. So tonight, unplug and recharge!
11. Do some cleaning.
Your environment can affect your mindset in many ways. If your desk, home, or office is cluttered, this can cause unnecessary stress and anxiety. Keep the space around you neat, orderly, and a place you want to be in.
12. Try a new exercise.
Completing just 30 minutes of exercise a day can do wonders for your mood and overall mental health. But doing the same routine every day or week can be tedious and cause you to lose interest. Today, focus on doing a physical activity that you actually enjoy. Get up, get active, and have fun!
The Unworkout: 7 Ways to Get Fit Having Fun
13. Smile - after all, it's a Friday!
Smiling can help reduce blood pressure and stress. So go ahead, let's see those pearly whites.
14. Dedicate time to your favorite hobby.
Spend today doing an activity you love!
Week 3
15. Volunteer in your community.
Check out the volunteer options in your area. Helping to improve your community can foster a sense of belonging and boost your mood.
How To Volunteer: 13 Steps To Start Volunteering in Your Community
16. Go for a mid-day walk at lunch.
Getting outside and spending even a little bit of time in sunlight can help keep your circadian rhythms normalized and reduce stress.
17. Drink your daily recommended amount of water.
Drinking enough water has numerous physical and mental benefits - so drink up! Don't know how much you should be drinking each day? Check out the hydration calculator below.
Hydration Calculator: How Much Water Do You Need to Drink a Day?
18. Sing a song.
Did you know singing helps regulate breathing and decreases anxiety? So go ahead and belt out your favorite tune - in the car, shower, wherever!
19. Just take a break.
If you start to get overwhelmed today - or just realize you need a moment to yourself - don't be afraid to pause your day for a few minutes. Taking breaks during large tasks can actually keep you focused and increase productivity in the long run.
20. Read up on mental health tips.
Take a proactive and preventative stance on bettering your mental health by researching resources for managing your mental wellness.
21. Spend some time with friends and family.
Have a cookout, go to the park, plan a game night - just surround yourself with the people you love.
Week 4
22. Head to your local cafe or brew a pot of coffee.
Did you know that drinking coffee has been linked to lower depression rates? I'll take a medium nonfat latte extra hot with caramel drizzle, please!
23. Get to bed early tonight.
Our days can get busy, but that doesn't mean you should cut back on your sleep. A good night's rest is essential to overall mental and physical health. Check out these tips to help you sleep better, and try going to bed 30 minutes - or even an hour - early tonight!
17 Proven Tips to Sleep Better at Night
24. Give a shoutout to someone you appreciate or look up to in your life.
Who in your life deserves kudos? Celebrate that person today – both of you will feel good about it.
25. Set aside a few minutes for a mid-workday stretch.
Take small breaks throughout the day to better care for your body. Doing a few stretches - even while sitting at your desk - can help with stamina and decrease feelings of burnout.
Stretches You Can Do at Your Desk
26. Do something creative.
Paint a picture. Write a poem. Or even start knitting a sweater for next winter! Acts of creative expression are linked to overall well-being!
27. Put in the extra steps today.
Park farther away at the grocery store. Take the stairs instead of the elevator. Or go for a long walk with your dog this afternoon. Make an effort to move more today than you did yesterday.
28. Start planning your next trip.
Do you prefer beaches or mountains? Camping or relaxing at the spa? Wherever you like to go, start planning your next getaway to give yourself something positive to look forward to.
29. Meal prep your lunches for the week.
Preparing some of your meals in advance can lessen the burden throughout the week and have you feeling more prepared and motivated. Need ideas for easy meal preps? Check out the link below.
16 Make-Ahead Lunch Recipes That Are Perfect for Bringing to Work
30. Have a laugh today.
You know what they say, "laughter is the best medicine." So go ahead and watch your favorite funny movie, tell your best knock-knock joke, or buy those tickets for the comedian you've been wanting to see - you deserve that laugh!
31. Talk about mental health - and keep the conversation going.
Congratulations on completing AASP's 31-Day Mental Wellness Challenge! But, May isn't the only time you should be thinking about your mental health and ways to improve it. Learn to talk openly about your mental wellness – this can increase compassion and empathy for yourself and others while helping to defeat the stigma associated with mental illness.
Other Resources: